AssuredPartners of Minnesota, LLC/AP Surety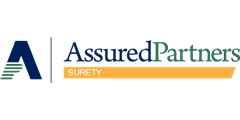 AssuredPartners of Minnesota, LLC/AP Surety
2685 Long Lake Road
St Paul, MN 55113
Phone:
View Phone Number
Website:
www.assuredpartners.com/stpaul

Forward to a Friend
Company Description:
AssuredPartners of Minnesota LLC is dedicated to providing surety and fidelity bond services to contractors of all types and sizes, attorneys, insurance agents, and the many businesses that need bonds in order to be licensed. We are all about relationships, and conducting our business the "Right Way". We take that approach to heart, and it forms the basis for our relationships with our clients, our referring agents and attorneys, and our surety companies. We strive to achieve innovative solutions to your surety needs while maintaining the integrity in doing the job right at a competitive price.
We carefully select the surety markets with whom we work, and we aim to utilize the most appropriate surety company depending on the needs of the client. No bond or customer is too large or too small – each person or company that comes to us for surety services receives the same treatment.
Whether your needs are in contract surety, civil or probate court, or any of the thousands of licensing and miscellaneous surety bond requirements, Newton Bonding will do its best to meet your surety or fidelity bond requests quickly and professionally. We work with large general contractors, smaller artisan contractors, large national attorney firms, sole practitioner lawyers, and businesses ranging from international and Fortune 500 companies to "mom and pop" operations.
With 30+ years industry experience, we have the relationships and expertise to handle your bonding needs. No request is too large or too small. We are committed to finding the proper solution for your bonding requirement.
AS a Surety Bond agency, all we write are surety bonds. We don't write insurance. We don't insure against loss to property, or personal injury, or loss of business income, or life itself. Just surety bonds. "Just" surety bonds?
What is a surety bond? A surety bond is a guarantee. A guarantee of a successfully completed project. A guarantee that subcontractors and suppliers of a project will be paid for their services – successful conclusion to a business transaction. A guarantee that a business will operate according to the laws, statutes, rules & regulations governing the business – successfully protecting the customers and users of the business. A guarantee that money entrusted to an individual will not be mishandled, stolen, or embezzled – successfully conserving and protecting assets.
Simply put, we guarantee success. That is who we are.
We guarantee success of our customers and their businesses. That is what an NASBP surety bond producer does every day. We are proud of this. We look forward to helping you succeed as well, because it's who we are.
We write Bid and Performance & Payment bonds for new/startup contractors as well as large, well-established contracting firms.
If your firm needs to be bonded as part of a licensure process, we can help. We have experience in handling all types of License & Permit bonds, such as Motor Vehicle Dealers, Mortgage Brokers, PCA Providers, all types of Contractor Licenses, and many more.
We specialize in providing bonds in Probate and Civil Court matters. We can also handle all types and sizes of Fidelity bond requests.
Bond Type(s):
Commercial - AG Dealer
Commercial - Auto Dealer
Commercial - Customs
Commercial - Fuel Tax
Commercial - License and Permit
Commercial - Mortgage Broker
Commercial - Notary Public
Commercial - Oil & Gas
Commercial - Other Energy
Commercial - Performance
Commercial - Public Official
Commercial - Reclamation
Commercial - Release of Lien
Commercial - Subdivision
Commercial - Title
Commercial - Utility
Commercial - Warehouse
Commercial - Workers Compensation
Commercial - Other
Contract - Construction Bid
Contract - Construction Payment
Contract - Construction Performance
Contract - Construction Warranty/Maintenance
Court - Appeals
Court - Executor
Court - Guardianship
Court - Injunction
Court - Other
Fidelity - Commercial Crime
Fidelity - Employee Dishonesty
Fidelity - ERISA
Bond Type(s):

Commercial - AG Dealer
Commercial - Auto Dealer
Commercial - Customs
Commercial - Fuel Tax
Commercial - License and Permit
Commercial - Mortgage Broker
Commercial - Notary Public
Commercial - Oil & Gas
Commercial - Other Energy
Commercial - Performance
Commercial - Public Official
Commercial - Reclamation
Commercial - Release of Lien
Commercial - Subdivision
Commercial - Title

Commercial - Utility
Commercial - Warehouse
Commercial - Workers Compensation
Commercial - Other
Contract - Construction Bid
Contract - Construction Payment
Contract - Construction Performance
Contract - Construction Warranty/Maintenance
Court - Appeals
Court - Executor
Court - Guardianship
Court - Injunction
Court - Other
Fidelity - Commercial Crime
Fidelity - Employee Dishonesty
Fidelity - ERISA