Integrity Surety LLC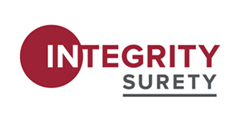 Integrity Surety LLC
17544 Midvale Avenue North
Suite 300
Seattle, WA 98133
Phone:
View Phone Number
Fax:
View Fax Number
Website:
www.integritysurety.com

Forward to a Friend
Company Description:
Integrity Surety is a surety bond specialist, providing the right fit for most types of surety with many dedicated markets and successful partnerships with flexible, creative sureties. We are dedicated to fast, exceptional service and long-term relationships tailored to the success of clients and agencies of all sizes, nation-wide.
We believe the right fit means matching the customer with the right surety at the best price. Our long-standing relationships with many sureties enable us to provide the best solution for you. Integrity Surety is a nationally licensed surety agency.
Our dedication to exceptional service enables us to work on behalf of our agents and clients, approving bonds with the goal of same day turnaround, and creative solutions for complex situations.
The Bonder at Integrity Surety is Kara Skinner. She is a 3rd generation surety bond specialist. Kara's extensive background in surety led her to found Integrity Surety in 2006. Kara knows from experience that clients would prefer to work with an advisor and partner, not a salesperson, and that meaningful relationships are key to mutual success.

Bond types available from Integrity Surety include:
· Performance, Payment & Bid
· Developer, Subdivision & Plat
· Supply & Service Contractor
· SBA Surety Guarantee
· Contractor License
· Right of Way
· Street Obstruction
· Auto Dealer
· Business Service
· Notary
· Mortgage Broker
· FMSCA / Freight Forwarder / Carrier / Property Broker
· Court / Judicial
· Fiduciary / Probate

Integrity Surety is committed to surety education for agents, contractors, attorneys, CPAs, and the surety industry as a whole. We offer seminars and workshops for all. We believe the more you know the better you will be able to meet all of your client needs.
Surety can be complicated. We make it easy.