Goldleaf Surety Services LLC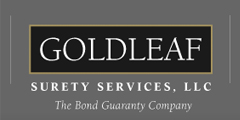 Goldleaf Surety Services LLC
3246 Hwy 7, Suite 150
P.O. Box 466
Montevideo, MN 56265
Phone:
View Phone Number
Website:
www.goldleafsurety.com

Forward to a Friend
Company Description:
Goldleaf Surety Services is a national surety specialist licensed in all 50 states with a 20 year plus track record of helping contractors and other businesses obtain the credit assistance needed to secure bonds.
Goldleaf's professional underwriting team is among the smartest, most creative and most proactive in the country. Our professionals work to understand your company's financial position and help develop stronger bond applications. Goldleaf knows what's critical and how to supply feedback to improve a company's bonding ability and limits. We excel at providing consultation on what changes can be made now and into the future that will have a direct impact on prospective bonds.
With over 20 different surety companies to choose from, Goldleaf Surety can network your company to the surety that best understands your business and your particular bond needs with the assurance that we only handle sureties that are rated "Excellent" (or better) by A.M. Best Company and are approved by the U.S. Department of the Treasury for bonding federal obligations ("T-Listed").
When other surety specialists are restricted by size, specialty divisions, or other constraints that limit the entire bonding process, Goldleaf brings it all together under one roof for an expedient and pleasant surety bond procurement experience. Whether you're looking for a license and permit bond, commercial bond, bid or performance bond, court bond, fidelity bond, or hundreds of other bonds, Goldleaf has the processes and partnerships to make it happen. Goldleaf's surety network provides a deep and wide range of bonding capacity for bonds of all sizes and all classes of work including:
All construction trades

Subcontractor bonds

Environmental specialties including asbestos

Subdivision and site improvement bonds

Technology and Software projects

Private Equity owned companies

Large Commercial Bonds including service contracts, supply contracts and installation contracts

Companies with unique growth opportunities
With licenses in Alabama, Alaska, Arizona, Arkansas, California, Colorado, Connecticut, Delaware, Florida, Georgia, Hawaii, Idaho, Illinois, Indiana, Iowa, Kansas, Kentucky, Louisiana, Main, Maryland, Massachusetts, Michigan, Minnesota, Mississippi, Missouri, Montana, Nebraska, Nevada, New Hampshire, New Jersey, New Mexico, New York, North Carolina, North Dakota, Ohio, Oklahoma, Oregon, Pennsylvania, Rhode Island, South Carolina, South Dakota, Tennessee, Texas, Utah, Vermont Virginia, Washington, West Virginia, Wisconsin, Wyoming, The District of Columbia and the US Virgin Islands, Goldleaf can assist contractors with multi-state bond needs.
With our tremendous capacity, huge range of solutions, and exemplary service, Goldleaf Surety Services should be your first call for help and ultimate surety partner.
Bond Type(s):

Commercial - AG Dealer
Commercial - Auto Dealer
Commercial - Fuel Tax
Commercial - License and Permit
Commercial - Mortgage Broker
Commercial - Notary Public
Commercial - Performance
Commercial - Public Official
Commercial - Reclamation
Commercial - Release of Lien
Commercial - Subdivision
Commercial - Title
Commercial - Utility
Commercial - Warehouse

Commercial - Workers Compensation
Commercial - Other
Contract - Construction Bid
Contract - Construction Payment
Contract - Construction Performance
Contract - Construction Warranty/Maintenance
Court - Appeals
Court - Executor
Court - Guardianship
Court - Injunction
Court - Other
Fidelity - Commercial Crime
Fidelity - Employee Dishonesty
Fidelity - ERISA