Gusso Surety Bonds Inc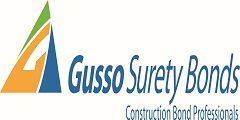 Gusso Surety Bonds Inc
2307 W 57th St Ste 100
Sioux Falls, SD 57108-5049
Phone:
View Phone Number
Fax:
View Fax Number
Website:
www.gussosuretybonds.com

Forward to a Friend
Company Description:
Gusso Surety Bonds, Inc. was founded in 2004 by Jason and Travis Gusso. Entrepreneurs at heart, Jason and Travis desired to serve their clients from the same platform their clients came to them – as locally owned independent business owners. Since that time, Gusso Surety Bonds has grown substantially, prospering with their clients and community. Their practice encompasses a several hundred mile radius and is primarily construction in nature, including general contractors, trade subcontractors, highway contractors, utility contractors, and many specialty contractors of all types. Gusso's commercial surety clients are frequently in the agricultural processing industry.