Blaise Group NY, LLC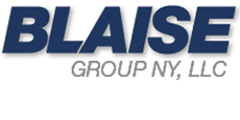 Blaise Group NY, LLC
35 Portman Rd
New Rochelle, NY 10801
Phone:
View Phone Number
Website:
www.blaisebonds.com

Forward to a Friend
Company Description:
The Blaise Group NY, LLC specializes exclusively in surety and fidelity performance bonds. Our single focus allows us to more fully understand the needs of our customers, and to serve them better. Our Certified MBE status is an added bonus for clients that perform government contracts.
The surety professionals at Blaise are bond experts, experienced in virtually every type of surety bond including construction bonds, license and permit bonds, fiduciary bonds, court bonds, public bonds and much more. We act as your trusted business adviser, while providing competitive pricing and the fastest turnaround on the bonds you need.
We can assist you with the SBA Surety Program, which allows small businesses that otherwise might not qualify to purchase bonds, so they can bid on contracts that otherwise would go to larger and more established competitors.
Our experienced staff will help you find the appropriate bond to meet your needs, and help you secure it in the shortest possible time.
Bond Type(s):

Commercial - License and Permit
Commercial - Subdivision
Contract - Construction Bid
Contract - Construction Payment
Contract - Construction Performance